jDrones News: MultiMount for multicopters.
We are proud to reveal another exciting new product from jDrones. We have been working hard and long with this new product and now finally it is available to all people who need highend mounts for their multicopter needs.
Mount has been designed to use with several widely used arm types. It can be used with round tubes of 10mm and 12mm of diameter. Is also fits on all 10, 12, 15mm square tubes.
Mount have rubber cushions that will make your motors run smoothly and silently. All normal motors that have so called X mount adapter (40mm end-to-end) fits on this mount. First you mount your motor on it's adapter and then adapter mounts on top of MultiMount cushions.
You can also use it on coaxial setups as shown in following picture
For technojunkies we have cool looking installation manual (thanks to Max Levine). Manual that is really clean and easy to follow, it just cannot get any simpler than this.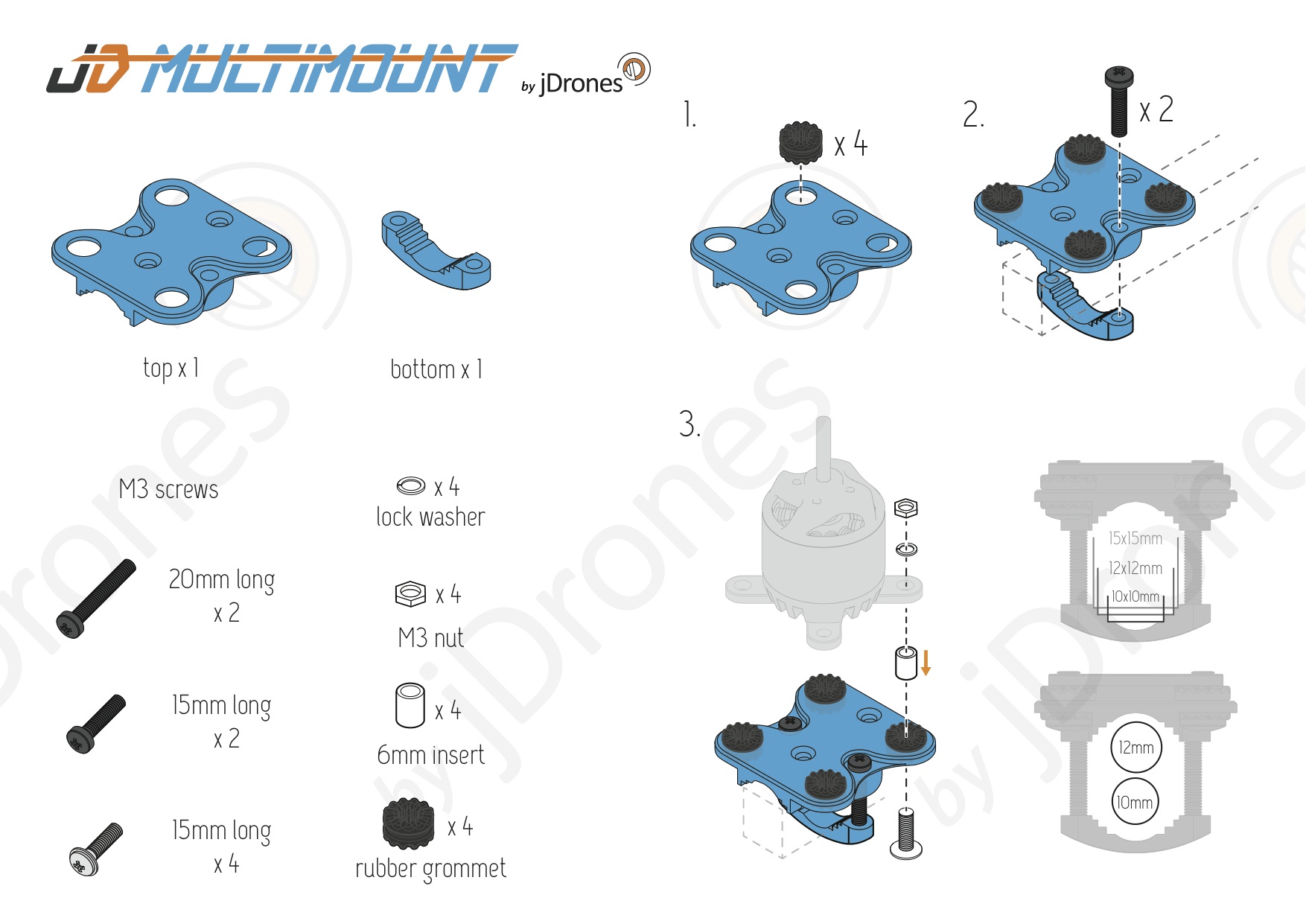 MultiMount specs:
Fits on: Round tube 10, 12mm / Square tube 10, 12, 15mm
Material: CNC Milled aluminum
Vibration dampening: Custom neoprene rubber
Motors: all motors that have X mount adapter with 33mm hole spacing (most of them have)
Weight: 17gr
Size: 35 x 35mm
Set Includes:
4 x custom rubber grommet
4 x custom alu inserts
4 x M3*12 washerhead screws
4 x lock washers
4 x M3 nuts
2 x M3*12mm screws, Black
2 x M3*20mm screws, Black
1 x MultiMount upper block
1 x MultiMount lower block
You can get them from jDrones Store: MultiMount MMSET2 
Design by: Max Levine & jDrones