Having seen the post about football airspace restrictions thought I should add this
Smaller airframes perhaps used by drone journalists would be subject to current ANO provisions. Any part of a CAA 1:500,000 chart that is yellow is considered a built up area and therefore not suitable for UA flight. So a pilot observed flying anything outside of approved RC flying sites within the prohibited zone might expect an interview on the 13th floor at Gatwick with no biscuits. I doubt if they will go after a small boy in a park, but try them with a camera equipped anything. 
If you have any thoughts of showing off and posting some FPV videos whilst this is going on from anywhere in that red area you need your bumps read. They will prosecute you if caught no questions asked.
Unlike other parts of the world there are clear rules that you will be breaching. That always applies to the yellow bits on a CAA 1/500,000 but its if they choose to come get you.
More reading here http://www.suasnews.com/2011/03/4439/olympics-2012-airspace-restric... 
Here is what the entire area looks like with restrictions of some sort or other in force.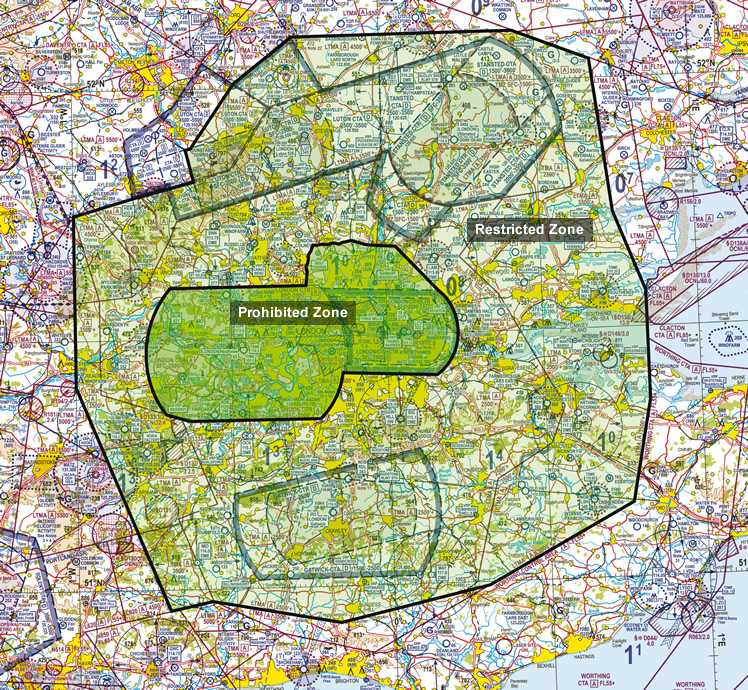 The CAA in the UK have been very good to unmanned aircraft types, especially those of us in the small world. Other countries still do not have regs permitting commercial flight and clear lines drawn in the sand. Lets not ruin a lovely thing.