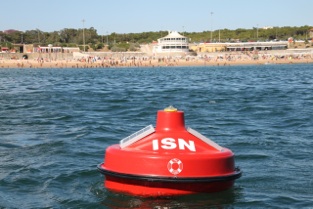 We have been working system that consists of buoys installed on the ocean to send real time data about beaches to
apps that we have made for iOS and Android. This system was deployed by Vodafone Portugal Foundation last summer as a pilot project and this year we have improved it further.
We are actually using our UAV electronics with an IMU on the buoys. In the end we chose to use the GPS for measuring wave height but we also have worked on it through the accelerometers as backup.
We use the GPRs network to feed the data from the buoys but have an RF channel open with the buoy to
monitor it locally and change configurations just as we do on the UAV. We are actually using the same system
on ground measurement stations.  
The data from the buoy is fed to servers in the cloud that then provide it to the end users mobile Apps.
Besides being useful for surfers and beach goers one of the important measurements is the UV Index. We hope it helps educate people on when not to go to the beach.
There's a short explanation of last years pilot project with photos here
http://praiaemdirecto.com/info
A summary video
http://www.youtube.com/watch?v=8Af77IFRngU
You can watch a short video from the company that installed the buoys for us:
http://www.youtube.com/watch?v=ykxNl6JeNi0
You can try out the apps here.
iOS
http://itunes.apple.com/us/app/praia-em-directo-fundacao/id45502631...
Android
https://play.google.com/store/apps/details?id=pt.vodafone.Praia_Em_...