Hi all,
At PropellerAero we think it is too hard and expensive for commercial drone operators to capture survey grade data - we needed a solution which was separate from drone or camera, and didn't require expensive GNSS rovers out on site.
Today we are launching our new AeroPoints - easy to identify ground control targets with built-in PPK to capture very accurate (~2cm in X,Y, 3cm in Z) positions to georeference your aerial surveys.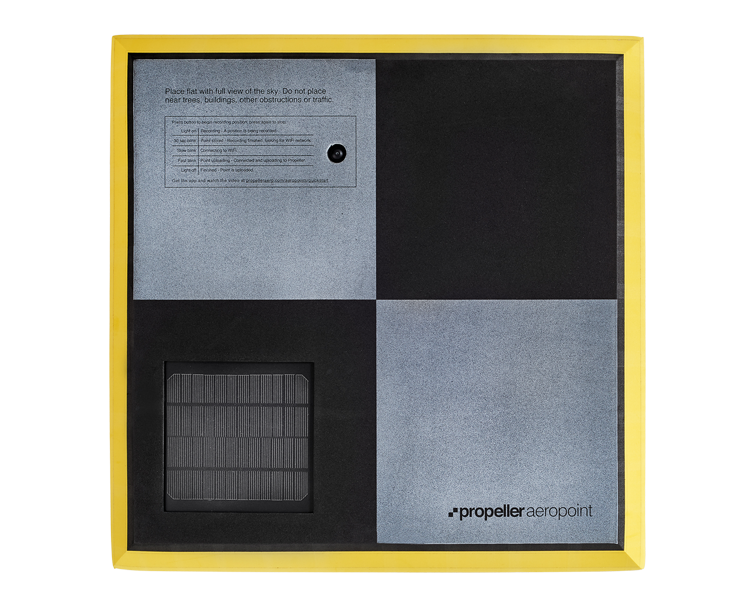 The units are fully solar powered, water-resistant and last weeks on the inbuilt LiFePO4 Battery.
We have been working on the concept for the last 18 months - and the accuracy we are getting is pretty exciting: 
The AeroPoints correct off local RTK basestations, and we currently have coverage across AU, USA and the UK, with more countries coming online shortly. In areas outside RTK correction zones, the AeroPoints use a complex mesh algorithm (like PPP) to correct the position data, giving <1cm internal accuracies and decimeter-grade global accuracy after a few hours of recording. 
This mesh algorithm gives our AeroPoints much greater usable baseline lengths than traditional, instantaneous RTK as well - as we measure the same point from more distant base stations the difference from the Topcon control remains tolerable:
Post survey, the AeroPoints look for a wifi hotspot (SSID: "propeller", password "propeller") and will connect automatically to the Propeller servers and upload all their information, where we then tie against local CORS data and generate highly accurate points.  
For those who already use the Propeller platform for processing and visualisation, the AeroPoints will automatically tie down your data - and for those who use desktop processing (pix4d/agisoft), we output a PDF report of qualities and a CSV block ready to go straight into your workflow.
A set of 12 runs for $6000 US, good for 150Ha (370acre).
Really looking forward to improving data accuracy across the industry: coarsely georeferenced information being used for technical applications is particularly frustrating for us at Propeller!
Cheers,
Rory
More information at https://www.propelleraero.com/aeropoints