Tried and True Platform
The E-flite Apprentice STS 1.5m is based on one of the very best platforms ever designed for learning to fly radio controlled (RC) airplanes—the legendary Apprentice S 15e. That model's large size made it an ideal choice for better visibility and the ability to handle more wind while learning to fly at an RC club flying field, and its inherently stable design plus exclusive SAFE (Sensor Assisted Flight Envelope) technology made it easy to fly successfully.
The Apprentice STS 1.5m is a modern-day evolution of the world's favorite club trainer that includes all the same great features while adding Smart components , along with the option to add SAFE Plus GPS-enabled technology and the all-new Landing Assist Sensor (LAS), to make learning to fly easier—and more fun—than ever before! 
Key Features:
Quick and easy assembly - no glue or special tools required

Ideal choice for new pilots when learning to fly with an instructor at an RC flying field, experienced pilots that teach others to fly, and club training programs alike

Official Trainer of the Academy of Model Aeronautics (AMA) and many clubs worldwide

Exclusive SAFE technology with Beginner, Intermediate, and Experienced Modes makes it easy to learn to fly

Powerful and efficient brushless power system, including a Smart ESC

Wide-stance tricycle landing gear with steerable nose wheel

Easily upgrade to SAFE Plus GPS-enabled technology to add AutoLand, Virtual Fence and Holding Pattern features (components sold separately)

Practice flying this aircraft in the RealFlight RC Flight Simulator

Wingspan: 59 inches (1500mm)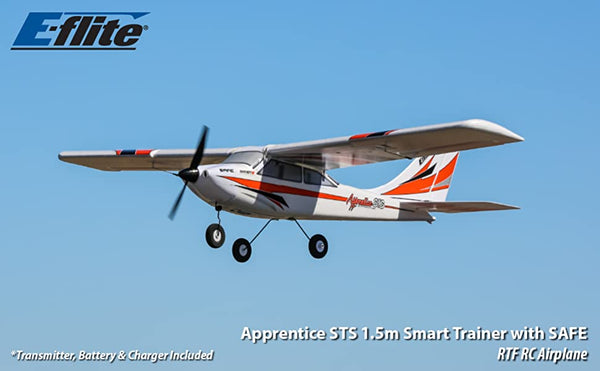 Best replacement battery
We all know that the EFL3750 is the best selling aircraft in The E-flite Apprentice STS 1.5m. Horizon Hobby, LLC. recommends you to use Spektrum 11.1V 3200mAh 3S 30C Smart LiPo Battery: IC3. But the Spektrum battery weighs 249g and has a length of 140mm.
The 3200mAh 3s shorty lipo battery 30c launched by CNHL weighs only 218g and the length is only 92mm. What's more valuable is that its price is only one-third of Spektrum's, but its service life is very long.
The following are the detailed parameters of CNHL 3200mAh 3s shorty lipo battery 30c
| | |
| --- | --- |
| Stock Number | 320303BK |
| Capacity | 3200mAh |
| Voltage | 11.1V / 3-Cell / 3S1P |
| Discharge Rate | 30C Continual / 60C Burst |
| Charge Rate | 5C Max |
| Size | 25X42X92mm |
| Weight | 218g |
| Output Connector | XT60 |
| Balance Connector | JST / XH |
| Remarks | N/A |
| Wire Size (AWG) | 12# |
We noticed that the CNHL battery and the Spektrum battery have different plugs, but this is easy. All you need is a XT60 Male to EC3 Female Adapter cable.
This is Best replacement battery for E-flite Apprentice STS 1.5m.
Want to buy? Click the link directly to CNHL 3200mAh 3s shorty lipo battery 30c
Want a lighter RC airplane battery? You can try CNHL 2200mAh 3s lipo battery 30c
Follow our blog for more RC inquiries.