The Freewing F9F-8 Cougaris a next-gen 80mm EDF jet loaded with amenities and details normally reserved for 90mm class jets. This ARF Plus version of the Cougar includes an E52 gyro, ultra-scale CNC landing gear, quick disconnect wings, thrust-reversing ESC, newly designed 12B EDF, scale LED light package, and a new powerful inrunner motor all coming together for a terrific new generation 80mm EDF jet brought to you by Freewing Model China.
Quick-Install/Release Wings
The Freewing F9F Cougar ARF Plus includes a screwless quick-release wing design that makes field assembly quick and easy.
Super-Scale CNC-machined Landing Gear
The Freewing F9F Cougar comes with the most scale CNC-machined gear ever produced in the 80mm class, accentuating the scale details you will find throughout the model.
Powerful Performer
With the 3658-2150Kv 80mm inrunner motor the F9F Cougar has the power and performance to take you to the type of heights you desire in a new gen EDF jet.
E52 Gyro Pre-Installed (ARF Plus Only)
For the ARF Plus version, an E52 gyro is pre-installed for your convenience. Tackle the skies with the added insuarance a quality gyro can offer you.
6 LED Lights with Controller
The Cougar comes pre-installed with 6 scale LED lights with controller so you can configure your lighting the way you prefer.
Newly Designed 12-Blade
A newly designed 12-Blade EDF was developed for efficiency, improving performance with the smooth jet whine you've come to enjoy in modern EDF jets.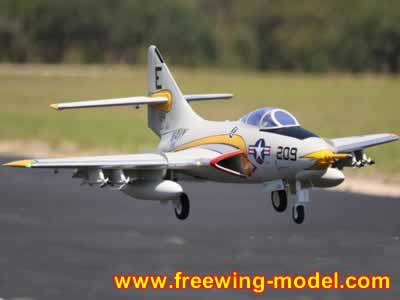 Features:
NEW! E52 gyro included in the ARF Plus version
NEW! Quick-Install/Release wings make assembly at the field quick and easy
NEW! New, super-scale CNC-machined and painted landing gear (First 80mm jet with ultra scale landing gear)
NEW! 90mm detail level in an 80mm jet - Highly scale details are included on this 80mm jet that are normally reserved for 90mm jets
NEW! A more powerful 3658-2150Kv 80mm inrunner motor
NEW! A newly designed 12-Blade EDF for better thrust, sound, and efficiency
Fully enclosed servo operated landing gear doors
10 metal gear servos (the most of any 80mm jet)
6 scale LED lights with LED light controller
100A Thrust reversing ESC with 7A BEC

Package Includes:
Freewing F9F-8 Cougar Super Scale 80mm EDF with Gyro - ARF Plus
All Servos and landing gear were pre-installed

Requires:
A more powerful 3658-2150Kv 80mm inrunner motor
12-Blade EDF and 100A ESC
7 Channel radio - select a minimum 7 channel radio
7 Channel receiver - select a minimum 7 channel receiver
6 Cell 22.2V 4000 - 6000 mAh LiPo Battery with EC5 connector
Minimum 6 Cell battery charger - select a minimum 6 Cell battery charger
PNP Version:
https://www.freewing-model.com/freewing-eurofighter-v2-90mm-edf-jet-pnp-rc-airplane.html
ARF Plus Version:
https://www.freewing-model.com/freewing-f9f-8-cougar-80mm-edf-jet-arf-plus-rc-airplane.html
SPECIFICATIONS:
Scale
1/10
Wingspan
1050mm / 41.3in
Length
1436mm / 56.5in
Flying Weight
~2420g / 85.3oz
CG (Center of Gravity)
106mm from the leading edge of the wing's root
Power System
3658-2150Kv Brushless Inrunner Motor
Electronic Speed Control
100A ESC with EC5 Connector
Propeller / EDF
80mm EDF with 12-Blade Fan
Servos

9g digital metal gear standard with 200mm lead : right gear door, left flap, right flap
9g digital metal gear reverse with 200mm lead : left gear door -
9g digital hybrid metal gear standard with 300mm lead : left aileron, right aileron, rudder
9g digital hybrid metal gear standard with 400mm lead : left elevator, nose gear steering
9g digital hybrid metal gear reverse with 400mm lead : right elevator -

Landing Gear
Super-scale CNC-machined and painted landing gear
Required Battery
6S 22.2V 4000-6000mAh LiPo with EC5 Connector
Required Radio
7+ Channel
Ailerons
Yes
Elevator
Yes
Rudder
Yes
Flaps
Yes
Lights
Yes
Hinge Type
Nylon
Material
EPO Foam
Skill Level
Intermediate
Build Time
1 Hour
Recommended Environment
Outdoors