Mission Log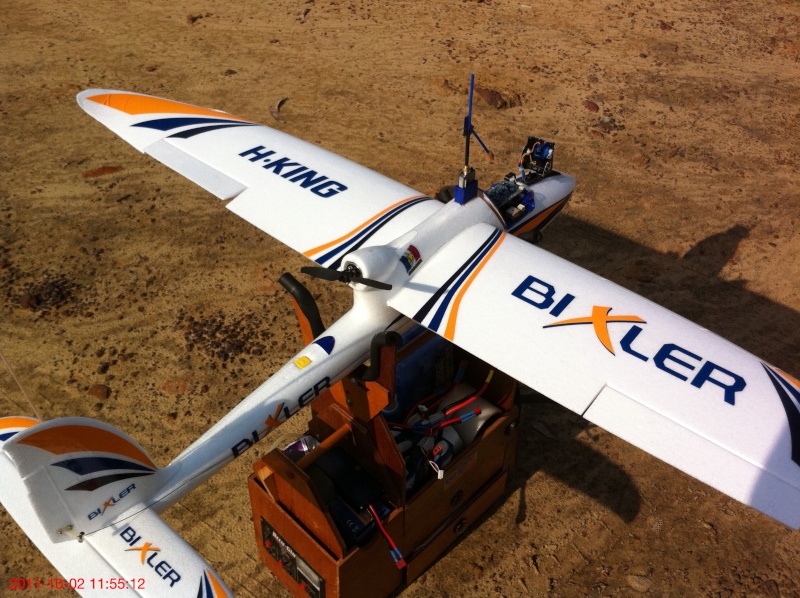 Hi Guys ,
Few months ago i have bought the HK Bixler and planning to equip this bird with ARDUPILOT Mega and Remzibi OSD.
Regarding the BIXLER is equipped with the following rigs:
-2212-06 28A 2200KV SP Brushless Outrunner Motor
-6X4 TGS propeller
-3000ma 3S 20C lipo Battery
Please note that the battery is providing power supply to the entire plane (receiver, Camera, ESC, OSD Remzibi, Video TX etc …) I am using the balance plug to power up the OSD, Video TX and camera. Basically on the plane i have only one battery in order to save weight and to minimize the mechanical problems and having a single point of failure.
-Video cam : 600TVL SONY SUPER HAD CCD D-WDR Color Board Camera with OSD Menu DNR
-Video transmitter 900mhz 800mw tuned on 980Mhz
-OSD Remzibi with the ARDUV1_72. firmware  and Flytron current sensor (100A). The radio signal strength is retrieved from the Dragon Link receiver.
-ARDUPILOT MEGA with the  ArduPlane2.24+Remzibi+Status_Leds  firmware
ARDUPLANE 2.24 + Remzibi addons
-Video TX antenna : DIY inverted V antenna tuned on 980Mhz
-Remote control JR9303 equipped with Dragon Link Module.
Dragon Link Module for remote control
Currently I am not using the Xbee Telemetry system
GCS :
-Eagletree Diversity
-DIY biquad Antenna and DIY ¼ wave ground plane antenna
-Lenovo T400 computer equipped with EASYCAP USB dongle for video recording.
-FRAPS and VLC software for the Video recording.
-Remzibi OSD for Video Signal information and GCS Battery level monitoring.
Remzibi OSD wiring and integration
The ARDUPILOT Mega integration with Remzibi OSD is very straight forward. 
Remzibi board GPS RX <--------------- ARDUPILOT MEGA telemetry TX
Remzibi Board GPS Ground <---------ARDUPILOT MEGA telemetry Ground
The stock channel 7 Configuration is triggering On/Off the OSD display.
-The Total plane weight is 1 kg.
-Flight duration : from 17 to 40 minutes and depends of my throttle management.
-Range : More than 10km.
Some Pics :
ARDUPILOT installation with the 980mhz inverted V antenna.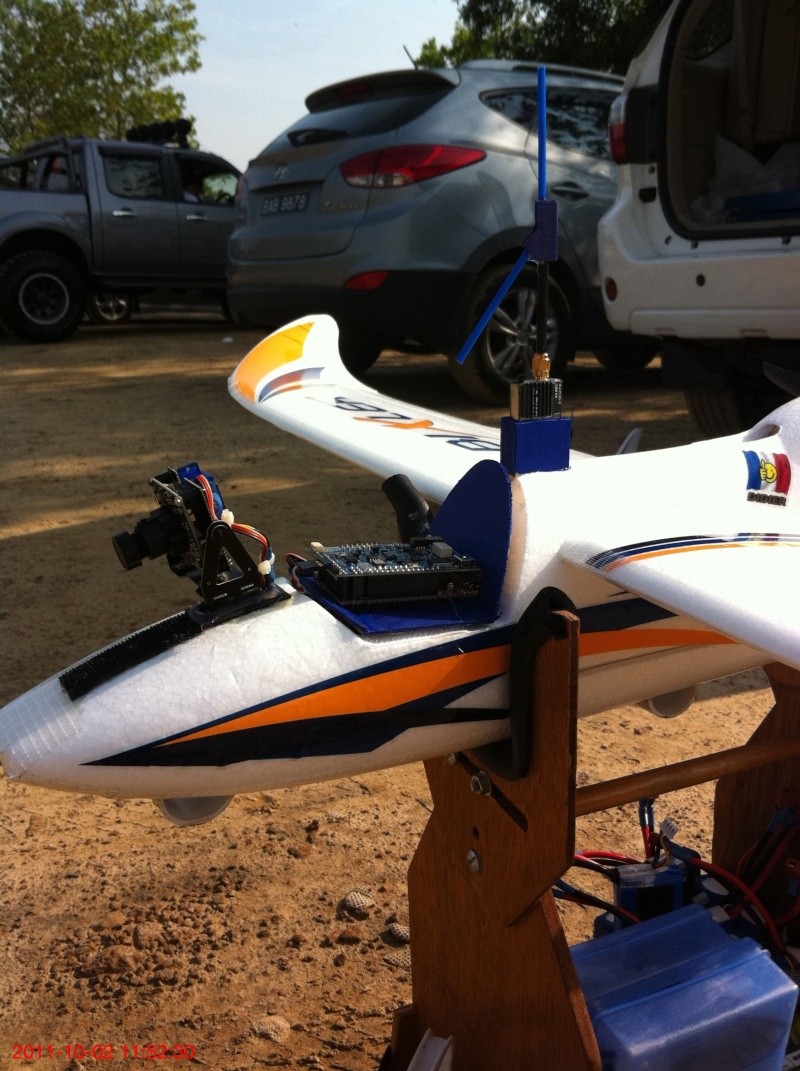 Full plane platform overview and the Dragon Link antenna is located on the plane tail.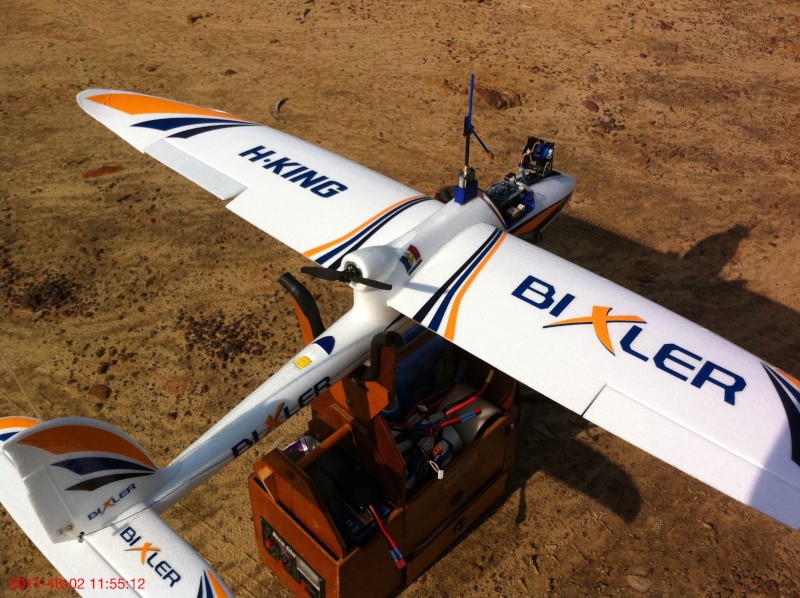 The 1/4 Ground plane antenna 
GCS pod with Eagletree diversity and the BIQUAD antenna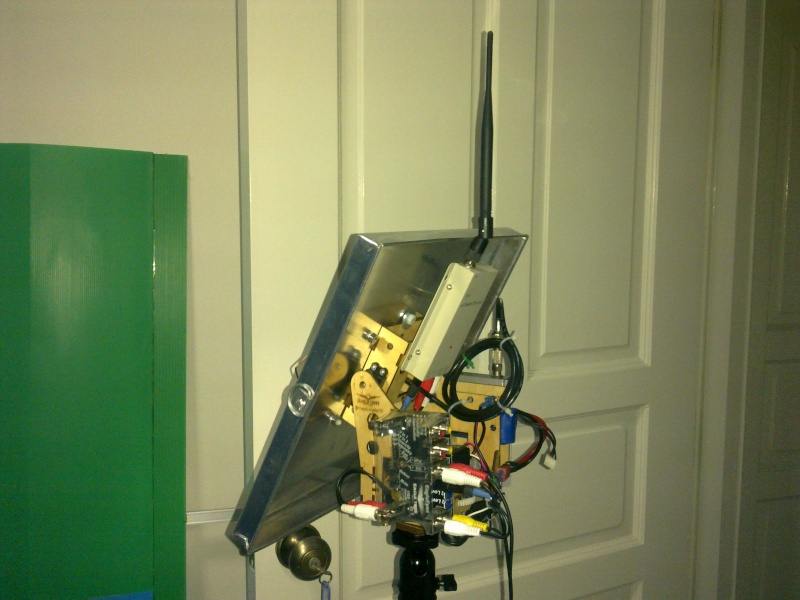 Remzibi OSD 
Regarding the Plane , i have no major comments because simply this plane is flying like a bird. No issue at all and this plane is able to welcome the overall additional payload and rigs.
According the ARDUPLANE firmware (2.24 release) ditto , no issue at all according the tests i have already performed.(well done guys , this release rocks).
I have tried :
-Manual mode
-Stabilize mode
-Circle
-RTL
-Failsafe
-Flight mission with 9 waypoints with circling.
So far no issue and all tested moded worked without any glitch.
The BIXLER configuration files (Many thanks Chris) are from Chris and the only modification I have imported is regarding the Radio Calibration. All other settings are stock setup from Chris and they work like a charm.
http://ardupilot-mega.googlecode.com/files/bixler.param
So far , with the ARDUPLANE 2.24 Firmware , no issues has occurred and I am more than satisfy regarding the current Arduplane Release 2.24 with Remzibi addons.
Cheers