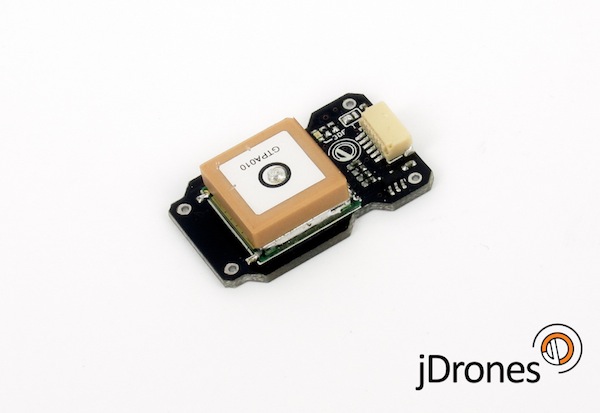 jDrones News: Upgraded MediaTEK 3329 GPS
Another exciting product update from us. Some people already have seen this new jDrones MediaTEK GPS. GPS is based on same GPS module as original DIYDrones GPS but it has some enhancements. Enhancements such as better groundplanes and optional backup battery board. Better groundplane enhances greatly to get 3D lock and also accuracy of GPS position. 
If you need even more, groundplane can be easily expanded around board. Shape of the PCB allows you fasten it easier with for example cableties. 
GPS is fully compatible with ArduPilot Mega and other boards. 
With optional backup battery board, tested 3D lock times are average of 1-5 seconds. Without battery board, initial lock times on our tests have been around 20-50 seconds. 
Get your GPS from jDrones store MediaTEK
Main board info
Size: 21 x 33mm
Weight: 7.9gr  (+5.5 gr with battery adapter and battery)
Internal / External jumper for selecting backup source
Engine: MediaTEK 3329 with patch antenna
Fully compatible with earlier MediaTEK GPS boards.
Backup battery board (optional)
Size: 21 x 33mm
Weight: 2.9gr (5.5gr with battery) 
Backup battery CR2032 3V
low current charging circuitry on board
Side load for battery
Picture below is battery board connected to main GPS board (production board is black and same shape as main board). Battery that fits on holder is normal CR2032 3V battery and you can find them from every 7-11 and other shops around the world.
Estimate lifespan for battery is 1-2 years.