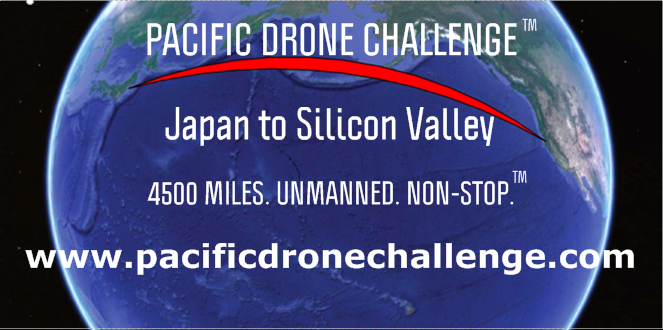 The Pacific Drone Challenge, inspired by the Xprize, has the goal of pushing the boundaries of what is possible with civilian drones. You have to do it for your name in the history books as there is no financial prize. Could we see this challenge accomplished by the DIY community? Getting the permits, insurance and having a pilot licence is not for everybody, but many are flying aircraft as a hobby, so it is possible. Right now, the Japanese company Irobotics and the organisation SabreWingAircraft accepted the challenge.
A quick calculation seems to show that battery only is out of the question for that distance. The best gliders have a 70 to 1 ratio. This would mean you would have to start at a height of 100 KM (or realistically, climb 100 km over the whole trip). Even if your plane was only made of batteries and it had perfect efficiency, the energy density of batteries is barely enough to provide the energy required (using an energy density of 950000J/kg). Optimization of the motor, the propeller and the air-frame is will be critical to succeed.
How would you go about this challenge? Build from scratch? Modify a glider? Use a flying wing? Let me know in the comments!