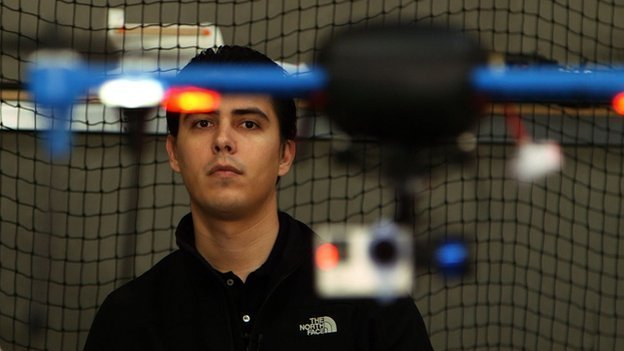 By Regan MorrisBBC reporter, San Diego
Mexican immigrant Jordi Munoz says that waiting for his green card after he first moved to the United States made The immigrant who became a drone firm boss him feel as if he was living "in a big jail".
At the time he was 20 years old, and he and his girlfriend had set up home near Los Angeles.
Yet he could not legally work, or even enrol at a college, until he got the identity card that proved his right to live and seek employment in the country.
But instead of just sitting around during his frustrating seven-month wait back in 2007, Mr Munoz, a keen model plane enthusiast and computer programmer, started to build his own drone in his garage.
A drone, technically an unmanned aerial vehicle, is essentially a very high tech and stable version of a remote-controlled plane with a camera attached to take aerial photographs or record videos.
Using what parts he had to hand, Mr Munoz made the drone's autopilot system by taking the motion sensors from a games console remote control.
To attach the microchips to circuit boards he heated them up in a domestic oven.
Fast forward to today, and Mr Munoz, now 28, is the co-founder of the largest US-owned manufacturer of commercial drones.
The business, 3D Robotics, is expected to enjoy sales of $50m (£33m) this year.
Key investment
Back when Mr Munoz was working on his first prototype, he started to put up posts about his progress on a website for other DIY drone enthusiasts.
In addition to the advice and encouragement he got from fellow hobbyists, one man was so impressed that he sent Mr Munoz $500 (£325) to help carry on his work.
http://www.bbc.com/news/business-31356080
A handful of members still here can say they were there for this story, my how things have changed. Fair play Jordi, fair play.