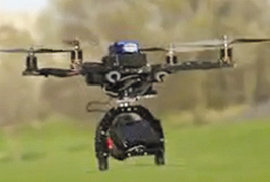 Helicopters, HTML & democracy: be a HACKER-JOURNALIST
Making software in the newsroom is the best job I've ever had.
It's great work, and it's for a purpose. We're not here to "save journalism" (whatever that means) — we're here to save democracy.
Requirements
A passion for the news
Serious programming skills
An understanding of the inner workings of the web
Attention to detail and love for making things
A genuine and friendly disposition
On any given day you might implement a responsive web design w/ HTML5 + CSS3, explore a dataset with a reporter looking over your shoulder, or help invent new ways to report the news.
Bonus points for…
Experience flying quad-rotor helicopters or mapping balloons
Information / graphic design
User experience / usability / empathy
Enter shameless link to sUAS News here 
http://www.suasnews.com/2011/12/10853/chicago-tribune-wants-a-web-d...