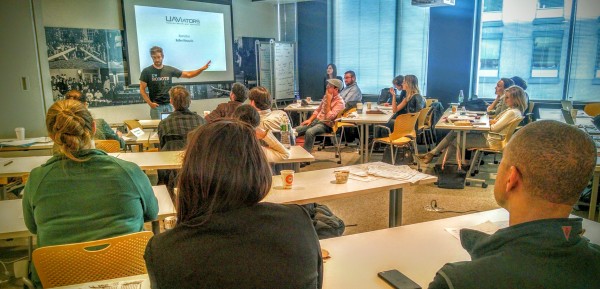 Early Fall mornings in Cambridge, MA have the feeling practically of American myth. The sun rises over the mist that hangs like a blanket on the Charles River, lighting the water with a pale glow that filters through multi-colored leaves and glints off the steel and glass fronts of the buildings which line the campus of the Massachusetts Institute of Technology (MIT). I'm hurrying down Massachusetts Ave towards Technology Square, wind in my face and coffee in hand, to arrive for the start of the second annual Humanitarian UAV (drone) Experts Meeting happening at MIT Lincoln Labs' Beaver Works. The meeting is hosted byUAViators (Humanitarian UAV Network), a brainchild of my friend and colleague Patrick Meier.
What a Difference a Year Makes!
One year ago I joined a group of leading-edge thinkers from across major humanitarian organizations, government, UN agencies, funders, UAV manufacturers and academia at UN headquarters in New York City to inaugurate the field of UAVs for humanitarian assistance and development. At the time, there was palpable excitement and intense engagement but still a high degree of uncertainty about the direction all this activity would take. Would we see significant growth in the use of UAVs during disaster response? Or would a backlash against the technology materialize? What applications would add the most value to humanitarian operations? How could we best involve local communities? What kinds of regulations would be put in place? Could we create a code of conduct for humanitarian UAV operators that multiple complex organizations might actually agree to follow? What could be done about the coming deluge of high-resolution image data? Was it reasonable at all to think we might soon see drones delivering essential health and relief supplies to remote or disaster-affected areas? 
In just 12 months, the total number of use cases for humanitarian UAVs has grown wildly across the global landscape. Despite a few setbacks and missteps, there is a mounting sense of optimism among humanitarians about the implications of UAVs for key functions and situations from data collection to delivery, and from relief to conservation to development. Organizations like IOM (International Organization for Migration) are using them to map housing and displaced populations. Catholic Relief Services (CRS) is using them to track coastal rebuilding and property rights. The American Red Cross (ARC) has projects underway to use UAVs to improve post-disaster network connectivity and to map flood risks.  Groups like Medicins Sans Frontiers (MSF) and UNFPA (United Nations Population Fund) are moving forward with major new experimental applications of UAVs for global health programs. Exciting new work in computer vision and crowdsourced image analysis has emerged from QCRI in the form of the Micromappers project, which tackles the big data challenges posed by UAV imagery. 

And yes, hope is on the horizon, from Ghana to Kenya to the Philippines, that within the next year the world will have multiple viable pilot projects able to demonstrate the feasibility of drone-based delivery systems for essential health and relief commodities.

Laws, Regulations, and the Humanitarian UAV Code of Conduct

Perhaps most encouraging, the humanitarian UAV code of conduct, a voluntary, collaboratively written guide to standards of practice for humanitarian UAV operations, is very close to completion. The bulk of the work on that document took place online and then in person at a mid-summer Rockefeller Foundation sponsored gathering in Bellagio, Italy. The assembled delegates at the MIT experts meeting took up another round of revisions, delving carefully into the nuances of language around safety, privacy and data security, priorities for data collection and data sharing, and detailed guidelines for community engagement, compliance with government regulations and promotion of awareness among humanitarians about civil aviation standards.  
The first panel, which I moderated, saw leading figures from DJI, Pepperdine University, and MIT address the ongoing challenges of law and regulation, of which there are many.  For instance, in response to regulatory concerns about how best to secure "no fly" zones for small UAVs, manufacturers have begun to installgeofencing software in their vehicles. Geofencing uses the GPS signal to detect and then potentially to ground a vehicle that has entered a restricted area like an airport or a military base. In many ways geofencing makes good sense and helps to avoid situations like serious user error which can result in near-collisions with manned aircraft or the accidental landing of a vehicle on the White House lawn, which did actually happen not too long ago. On the other hand, geofencing can also run afoul of rights to free speech and press, or in some cases international humanitarian law. It could pose serious obstacles to the delivery of humanitarian aid if there isn't a reliable mechanism for exemption. Despite these concerns, the fact that a multi-dimensional debate is new being joined at high levels of industry, government, humanitarianism and academia is encouraging.  Much like the Code of Conduct, which stands to be concluded and ratified by a range of parties in the upcoming year, 2016 should see major movement on issues of airspace access, geofencing exemptions and privacy rights.  
Lessons from the Nepal Earthquake
Patrick led us off with a guided tour (de force) of one of the most exciting new developments in the field to date — a collaborative deployment which concluded in late-September between DJI, UAViators, Kathmandu Living Labs and Kathmandu University. Out in the town of Panga which remains devastated by the April earthquake local Nepalis collaborated with leading figures from the UAV industry to produce high-resolution aerial maps and 3D models of structurally damaged buildings in serious need of repair. DJI left behind multiple Phantom 3 quadrotors and worked with Pix4D, the world's leading UAV image analysis software company, to teach dozens of smart, enthusiastic young people how to use the technology themselves to guide rebuilding efforts and to catalyze sustainable businesses. This project has seeded the creation of Kathmandu Flying Labs as an adjunct to Kathmandu Living Labs, a model of community-driven technology innovation which may one day soon point the way toward a global network of local robotics and analytics hubs.  
Throughout the rest of day 1 attendees ranging from OCHA to USAID to Unmanned Experts and Halo Dropwrestled with issues which cropped up during the Nepal earthquake such as the variability of jurisdictional authority over different areas of a humanitarian operation: even where the national aviation regulators approve there may be serious disagreements with local police or other civil authorities. Often UAV operators themselves may be quite new to the field of humanitarian assistance, which can lead to misunderstandings around the types of situations they should expect on the ground. Communities affected by recent traumatic events may not understand the use of this type of technology, particularly when operators have not taken the time to sit down with them, carefully explain what they are doing, and establish a basis of trust and information sharing. All these things happened in Nepal, and the assembled delegates all struggled to come to terms with their implications for the next major humanitarian response event.
The Next Wave of Humanitarian UAV Development
We had the exceptional good fortune to hear from some of the best engineering minds at MIT and from the pioneers of leading open source projects like OpenStreetMap, OpenAerialMap and OpenDroneMap about the future of the humanitarian UAV ecosystem. Sense-and-avoid technologies are emerging (but not yet ready for primetime) which allow a vehicle to detect obstacles and autonomously evade them. Integrated multi-sensor incident command structures have been designed which could coordinate multiple vehicles within a single humanitarian space. High-powered image algorithms are getting us closer to real-time processing of aerial sensors in the field. Solutions are in the works for bandwidth choke points, which slow down or disable coordination and data processing in the field. The future of autonomous, flight may not quite be here yet, but it's in the works in the labs nestled among the Cambridge foliage.
By the end of the two-day affair, we were seeing right before us a rare convergence. Rapid technological innovation is happening in humanitarian UAVs within a structure of careful community discourse, deep ethical concern and a real sense of shared purpose. As Patrick Meier expressed so eloquently at one point on day one — nothing like this discussion happened back in the 1990s when mobile technologies were first emerging commercially;  just imagine the difference this type of rich engagement would have made to the health and well-being of communities across the world that have since benefitted enormously from advances in smartphones, social media and SMS despite huge mistakes in countless humanitarian deployments of those technologies throughout the world.
Towards a Future of Shared Innovation in Social Automation
Much clearly remains to be done to ensure that small UAVs, when they are deployed, fit usefully, safely, securely and ethically into the proverbial humanitarian toolkit. But if the two-day meeting which just concluded so thoughtfully and joyously at MIT this weekend is any indication we are on our way to a not-too-distant future in which the benefits of social automation and robotics, led by the small aerial robots we now call UAVs, will extend throughout the length and breadth of global society, to be shared by the most vulnerable among us.