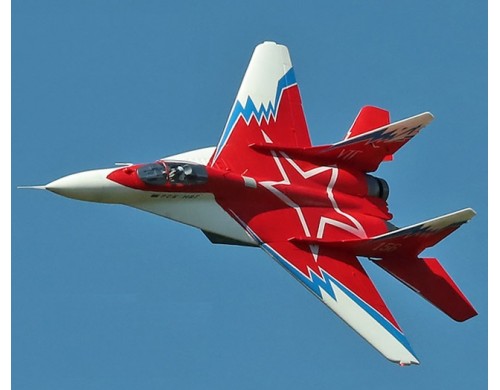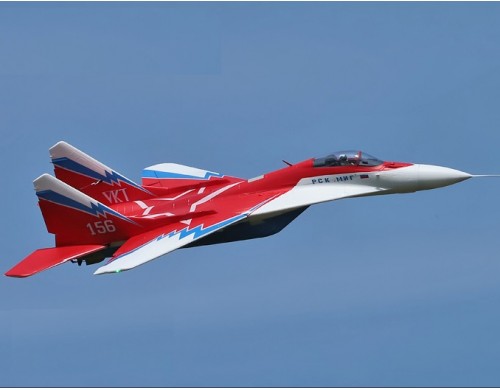 - 1/9 scale with 74" length and 50" wingspan.
- With twin 3658-1920Kv brushless inrunner motors and 9-blade fans propel the model to 120mph.
- Highest level of engineering for a modern Plug-And-Play EDF jet.
- Optimized for high performance and superb scale handling.
- Lifting body design provides gentle flight characteristics.
- Large flaps and suspension landing gear give pilots confident operation on grass airfields.
- An accurate overall outline, scale ordnance on removable pylons, and articulating landing gear doors enhance the model's scale fidelity.
- Twist-and-Turn main retracts provide improved aerodynamics, and screw-together assembly gets modelers into the air quickly.
- All-New retract units, oversized for durability on grass runways.
https://freewing-model.com/freewing-mig-29-twin-80mm-red-ovt-edf-jet-pnp-rc-airplane.html
 Material: Durable EPO Foam
- Wingspan : 1257mm (49.4in)
- Length : 1878mm (73.9in)
- Weight: Around 4300g ( Without Battery ) 
- Servo: 2 x 9g Metal gear Servo , 7 x 17g Metal Gear Servo & 2 x 30g Metal gear Servo For Elevator  (Installed)
- Landing Gear : Electric Servoless Retract With Metal Suspension Landing Gear (Installed)
- Ducted Fan: 80mm 9 Blade EDF x 2 (Installed) 
- Motor:  3658 1920Kv Inrunner Brushless Motor x 2 (Installed) 
- ESC: 100A Brushless ESC x 2 & 8A UBEC (Installed)  
- Battery: 22.2v 4000mAh - 5500mAh 50C x 2 (Not Include)
- Radio: 7 - 9Ch (Not Include)
https://www.freewing.co.uk/freewing-red-star-mig29.html