Check it out:
http://www.prweb.com/releases/2009/10/prweb3108684.htm
http://www.invensense.com/products/itg_3200.html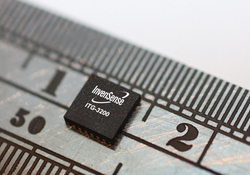 $3 in mass volume, so that has to mean under $20 single quantity.
16bit digital output using I2C Interface is nice, 16bit is a good start.
Sadly if it's anything like the IDG range it will never compare to "serious" gyros like the AXDRS range. It's a start though.