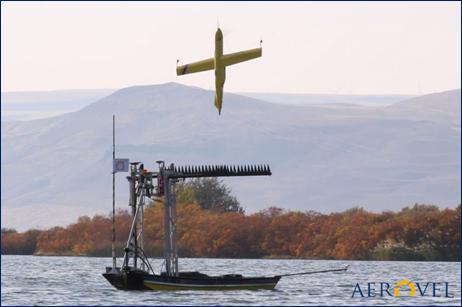 I can't get enough of this platform
The aircraft is Aerovel's 20-kg Flexrotor, which combines VTOL and small footprint with Hawaii-to-West Coast range. The carrier is a 4-metre skiff equipped to launch, retrieve, and service Flexrotor automatically. In what are believed to be the first-ever flight cycles of an unmanned aircraft based on an unmanned boat, Flexrotor launched from the remotely-controlled skiff while underway, climbed out as a helicopter, transitioned to wing-borne flight, imaged the skiff while flying at low and high speeds, transitioned back to thrust-borne flight, and retrieved autonomously onboard. The aircraft then shut down, was automatically refueled and restarted, and repeated the first flight, finally being secured onboard in a docking station. Aircraft and skiff then came ashore, and were driven 100 miles home into the setting sun.
Tad is a wonderful friend to sUAS News and we can't thank him enough for the scoop. Keep reading sUAS News folks we will keep you a couple weeks ahead of the rest ;-)
http://www.suasnews.com/2013/10/25645/first-flight-of-unmanned-airc...