Well the big news of this week, this month and possibly this year is that Colin Guinn is back in the multicopter business and this time with 3D Robotics, his employment was confirmed this afternoon.
Colin Guinn was the global face of DJI on YouTube, known for his tutorials on using the Phantom, he specifically credited his team for DJI's 27,000 Facebook likes and 30,000 YouTube subscribers and millions of views in the injunction against DJI that was filed on 22nd of January 2014.
The fact 3D Robotics is a US company and Guinn has experience building up a multicopter brand in America makes for an interesting combination.
The multicopter masses had a love hate relationship with Colin Guinn, his tutorials on the Phantom were universally well received but there was frustration that problems such as fly-aways were never really addressed except on one video by Mitch Bergsma, which DJI recently tried to have taken down but appeared to relent after a social media outcry, even this video presented fly-aways as a preventable user error which isn't a fair analysis.
If Colin Guinn enters the social media limelight for 3D Robotics, it would be welcomed if this time around there's a more open and honest appraisal of the benefits along with the risks of using multicopters.
Colin Guinn clearly is successful at marketing but new users of multicopters such as those from professional photography backgrounds expect excellent customer service such as that offered by Canon, so marketing spin alone isn't enough.  3D Robotics has to date offered, especially to IRIS users, very good customer service, that is a focus it cannot afford to lose.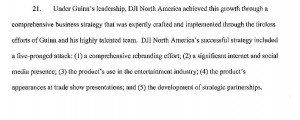 3D Robotics is playing catch up, whilst its newest quadcopter the IRIS has a loyal following and has a lot of power features, it clearly wasn't designed for video photography and the offering of the Tarot gimbal really isn't inspiring.  With Colin Guinn on board, could his passion for creating video with multicopters help 3D Robotics redefine its product offerings?