Beijing Model / Hobby Expo May-2012
jDrones visited on Beijing Hobby Expo this May-2012. Beijing model expo is one of the biggest in mainland China. There are hundreds and hundreds of people around the world visiting on expos every year. This year was not exception. We saw and talked with lot of people from various countries around the world.
It was really pleasant to visit there and to see many of our friends on their exhibition booths. Almost every 5th exhibitor already knew us and greeted us warmly. We also make some new friends on expo area, some will be our members on our global partner network and some will be more closer contacts.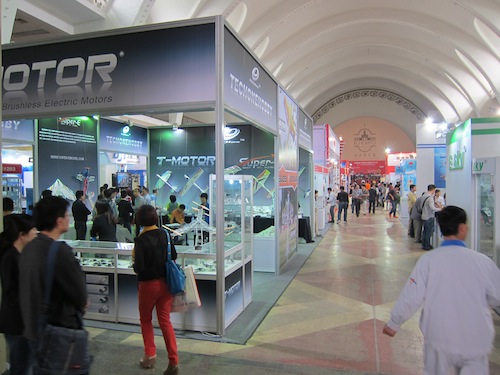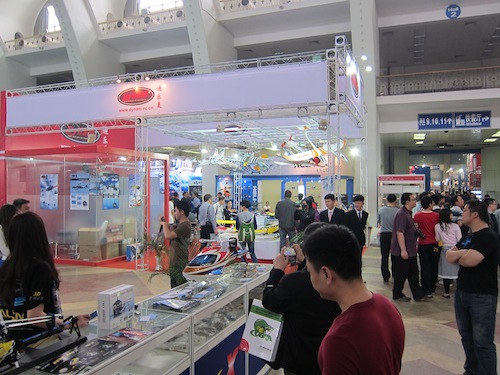 Whole expo area was spread around 3 big halls on Beijing EXPO center. There we not any really big surprise on area. Maybe biggest change on overall was exposure of multicopters and similar devices, almost every 4rd manufacturer had some type of multicopter on their booth.
But in generally whole expo was build around all those traditional areas like:
- Airplanes, Helicopters
- Motors & Servos
- Boats
- Cars
Another thing was battery and motor providers. Those has really big part on this years expo.
So let's first take a look at some of the multicopters over there.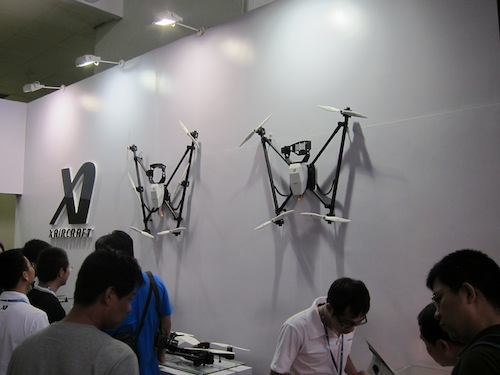 More traditional looking hexa copters..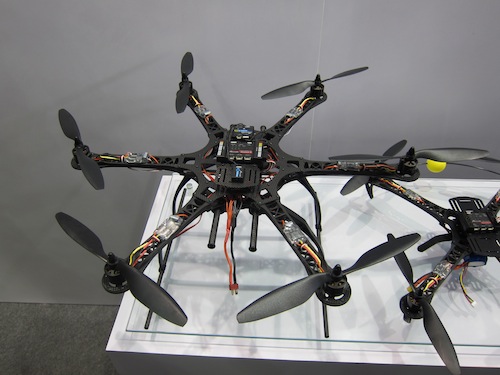 Generic folding frames was also present. Frame was made mainly from Kite parts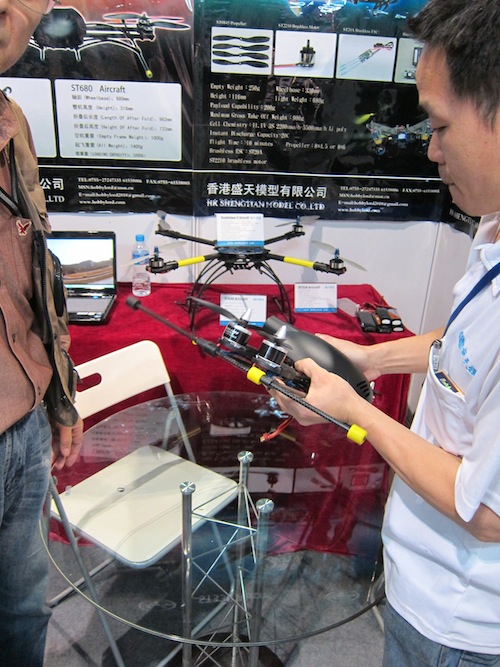 Also there were really small quad copters on Walkera booth. I mean really small :)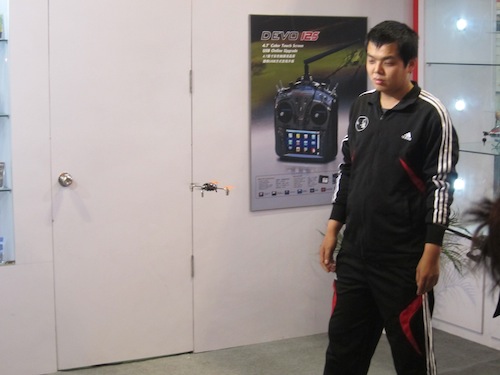 And also one really big monster quad. This quad did weight almost 3kg and it had huge 18" propellers, foldable arms and belt-driven power system. All features were integrated their custom made radio.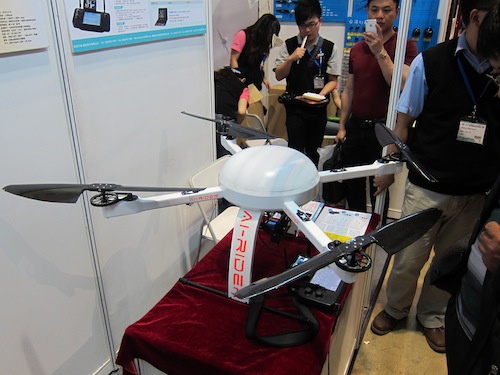 DJI has their big booth too with all their nice frames and helicopters but we never saw many people on their booth which was a bit of surprise for us.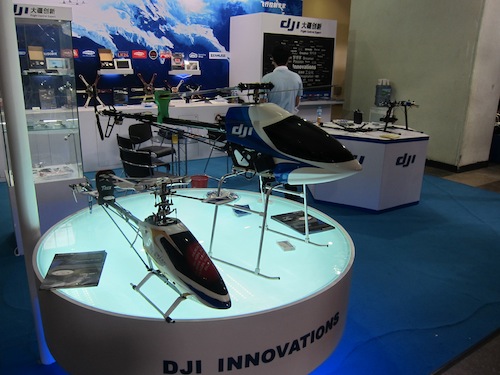 We also found one possible frame for our new ArduRover line. Let's see what future brings for us. At least this rock crawler looks really great and it's strong. It was size 1/6 full aluminum frame.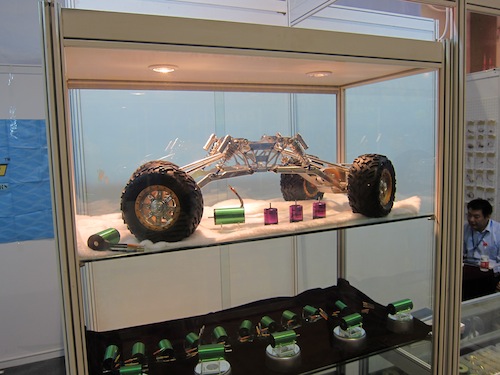 Along all those traditional and UAV airplane frames one full RTF Airplane was clearly on top of others. It was just great looking FPV plane. Elegance to the maximum...
This plane had everything what you need to start your FPV career. IT had front camera, flightstabilization, RC controller, OSD. Best of all was the radio, it had it's own video display and possibility to connect even video goggles.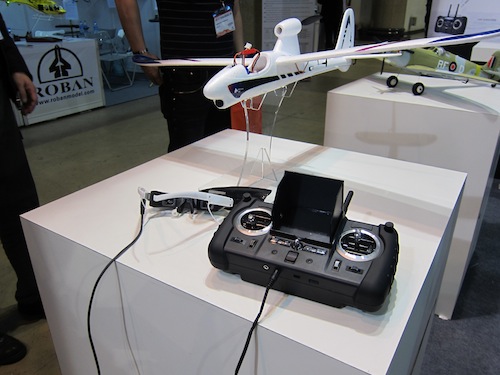 Radio on closeup... This radio and it's camera systems can be easily mounted on helicopters, airplanes and other devices. It works on 2.4Ghz frequency and manufacturer gives range of 1-2km for it.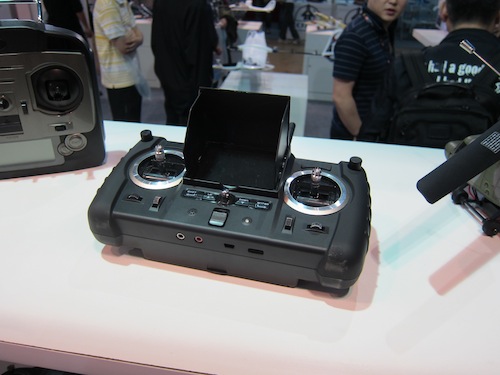 Other really interesting thing on whole expo was all those great looking nice toys that growing boy just cannot live without. And by toys I mean all great tools what they had. 
There were several companies selling Milling machines, Millin/Lathe machines and also small hobby 6-in-1 modular machine sets.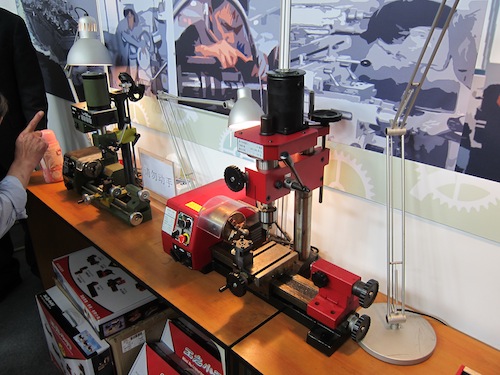 One of my favorite was this miniset that can be easily modified from small lathe to milling machine or even tablesaw. It was looking absolutely amazing piece of work. Every home hobbyist should have at least one set. Even thou we here at jDrones have big CNCs/Laser cutters/Milling machines I personally thing that I need to have one of these sets too (when I get it, I will make detailed review of it).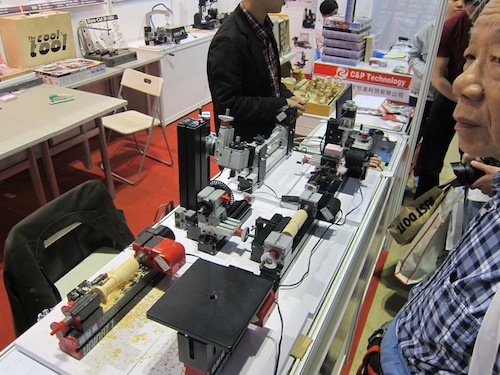 One nice MUST thing is to have your own personal mini robot. It was even dancing some Shakiras football theme.
Robot had 14 servos, ARM cpu and it did rock while doing pushups/dancing and stretching like old Arnold ;)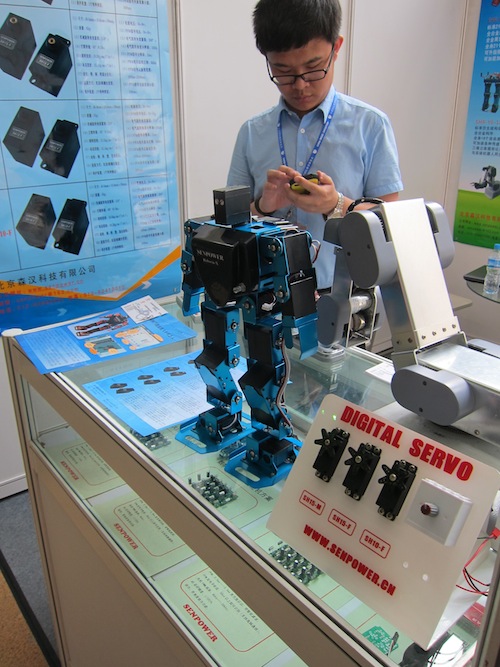 That's about it for this year Hobby Expo. Thank you Beijing and see you next year.