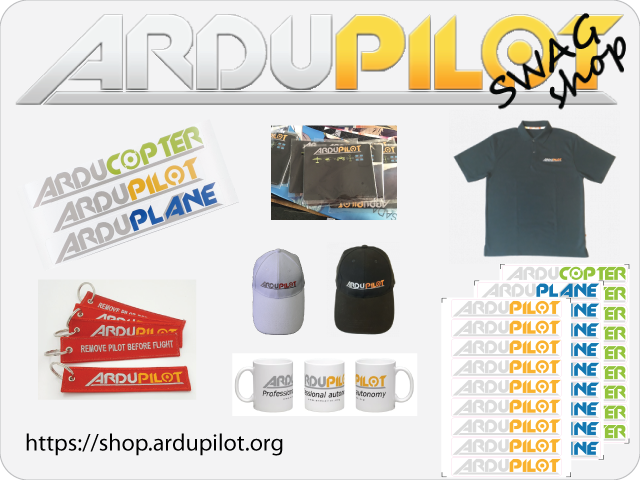 After many months of working and planning within ArduPilot marketing team, we are finally pleased to announce our own ArduPilot organization swag / merchandise store.
The official store address is: https://shop.ardupilot.org
What is this shop all about? It is for all types of ArduPilot branded swag/fun merchandise. Many people have been asking a lot of different type products like coffee mugs, stickers, polo shirts and so on: Here is your official destination now to get all those. And every purchase you make from this shop will support ArduPilot development.
New products coming to the SWAG shop will constantly appear. If you think that something nice and important is missing, please post your idea on our marketing threads, we will then look at what can be done.
ArduPilot is a Non-Profit organization, but it does not mean that everything is free. Organization have many expenses to be covered. There are repository costs, servers around the world serving firmwares for all users, exhibitions, development projects, and so on.
Funding to operate is coming mainly from our partners, individual users and now also from the swag store.
If you think that you have a great idea that would help improve ArduPilot, please take a look at our Proposals area here on the ArduPilot Discuss forum. And join us on the development efforts.
So now go and get your swag: https://shop.ardupilot.org and help us make the whole world know about ArduPilot.