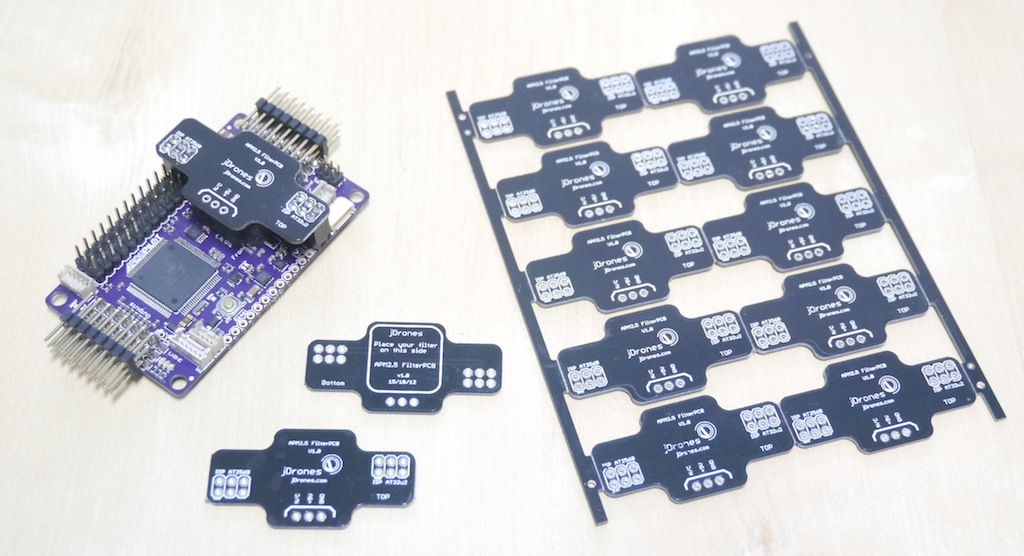 If your barometric sensor exposed on APM2.5?? Or you have tape/foam hack to cover it. Here is more elegant way to cover your baro nicely. On older APM2.0 baro sensor was covered with another PCB so it was not so exposed to wind blows and you got better altitude hold with it. On new APM2.5 board upper daughter board has been removed and barometric sensor is now fully exposed so it needs to be covered to avoid erroneous altitude readings.
We made custom APM2.5 Filter PCB for this purpose. It connects on both ISP pins on APM2.5 and foam on middle covers baro. There are additional +5V input provided on this board if you want to boost +5V system on your flight controller.
Ardupilot-Mega Wiki page has guide how to cover your baro but we were thinking that there has to be better ways than using tape and foam. Yes there are. 
Which one you prefer?
Filter PCB's are now available on jDrones store, 4.5 USD each. So grab one during your next order and you will get a lot more accurate altitude response from your APM2.5 boards. 
Jani / jDrones