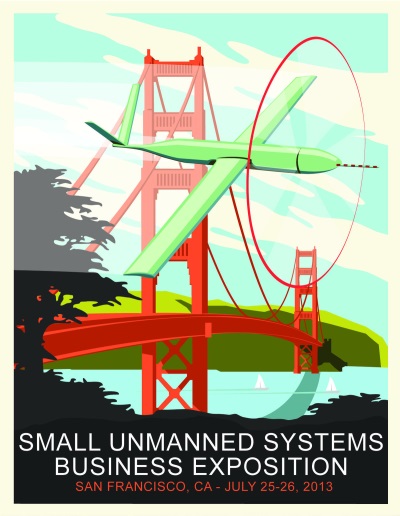 (Chris Anderson is the third speaker in this clip)
Kicking off at 0900 Pacific the sUSB Expo in San Francisco all things being equal live streaming should pop up on the sUAS News YouTube Channel and our G+ Group. Should the tech fail we will be recording all the speakers and putting their presentations and slides up after the show. Chris and members of the 3DR team will be among the guests.
Here's the speaker times if you want to tune in for somebody in particular, all subject to change and slide of course. Look out on twitter @sUASNews for timetable changes.
Thursday 25th July
9:00 – 9:10 Welcome and Opening Statements – Bruce Parks, AgriFlight
9:10 – 9:30 Open for Business – Patrick Egan, sUAS News
9:30 -9:45 From the Dark Continent – Gary Mortimer, sUAS News (Skype)
9:45 – 10:15 Chris Norris, Alta Devices
10:15 -10:30 The Benefits of AUVSI Membership – Gretchen West, AUVSI
10:30 -11:00 BREAK
11:00 – 11:30 Eileen Shibley, California UAS Portal
11:30 – 12:00 Jonathan Downey, Airware
12:00 – 1:30 LUNCH
1:30 – 2:00 Tad McGeer, Aerovel
2:00 – 2:30 Seeking Fair Solutions to Public Concern over Commercial Unmanned System Use – Chad Partridge, 2D3
2:30 – 3:00 Film Production UAS Gus Calderon, IsisCopter
3:00 – 3:30 BREAK
3:30 – 4:00 ASTM F-38 Update -Ted Wierzbanowski
4:00 – 4:30 Karl Hedrick, U.C. Berkeley
4:30 – 4:45 Sean Varah, Motion DSP inc
Closing Statements
Reception sponsored by Motion DSP inc
Friday 26th July
9:00 – 9:15 Joerg Lamprecht, AIRBOTIX
9:15 to 9:45 Legal Considerations – Douglas McQueen, LeClair Ryan Law
9:45 to 10:15 Ken Giles, UC Davis
10:15 – 10:45 Lidar Demo – Wolfgang Juchmann, Velodyne Lidar
10:45 to 11:00 BREAK
11:00 – 11:30 Dr. Jerry LeMieux, Unmanned Vehicle University
11:30 – 1:00 LUNCH
1:00 – 1:30 Chris Anderson, 3D Robotics
1:30 – 2:00 sUAS for SAR – Gene Robinson, RP FLightsystems
2:00 – 2:30 Robotic Aircraft For Public Safety – Dr. John Appleby, DHS
2:30 – 3:00 BREAK
3:00 – 3:30 Douglas Hunsaker, Scaled Composites
3:30 – 3:45 Mathew Schroyer, DronesforGood.com, Drone Journalism
3:45 – 4:00 Drone Gaming – Eli D'Elia, Game Theory Robotics
Tickets at  http://www.susbexpo.com