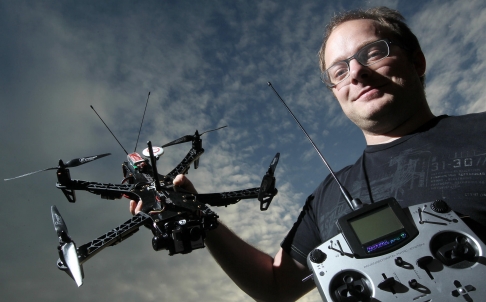 By  JACK NICAS
Raphael Pirker agreed on Thursday to pay the FAA $1,100 to settle the agency's $10,000 fine for allegedly flying a drone recklessly to film the University of Virginia in 2011. Under the settlement terms, Mr. Pirker doesn't admit to guilt and the FAA agreed to drop some of its accusations against Mr. Pirker.
The FAA declined to elaborate beyond the details of the settlement.
Mr. Pirker's attorney Brendan Schulman said his client decided to settle because the length of time needed to finish the case and recent comments by the FAA "have diminished the utility of the case to assist the commercial drone industry in its regulatory struggle." The FAA has said its authority to regulate drones stems from a 2012 statute that post-dates Mr. Pirker's flight.
The FAA fined Mr. Pirker, a dual national of Austria and Switzerland, in 2012. The case gained attention after a federal administrative law judge ruled this past March that Mr. Pirker's plastic-foam drone was a model aircraft and thus not subject to FAA rules for manned aircraft. The decision cast doubt on the FAA's authority to regulate drones.
In November, the National Transportation Safety Board overturned that decision and ruled that drones are aircraft and subject to aviation laws, affirming the FAA's regulatory power over the devices.
http://www.wsj.com/articles/u-s-federal-aviation-administration-settles-with-videographer-over-drones-1421960972