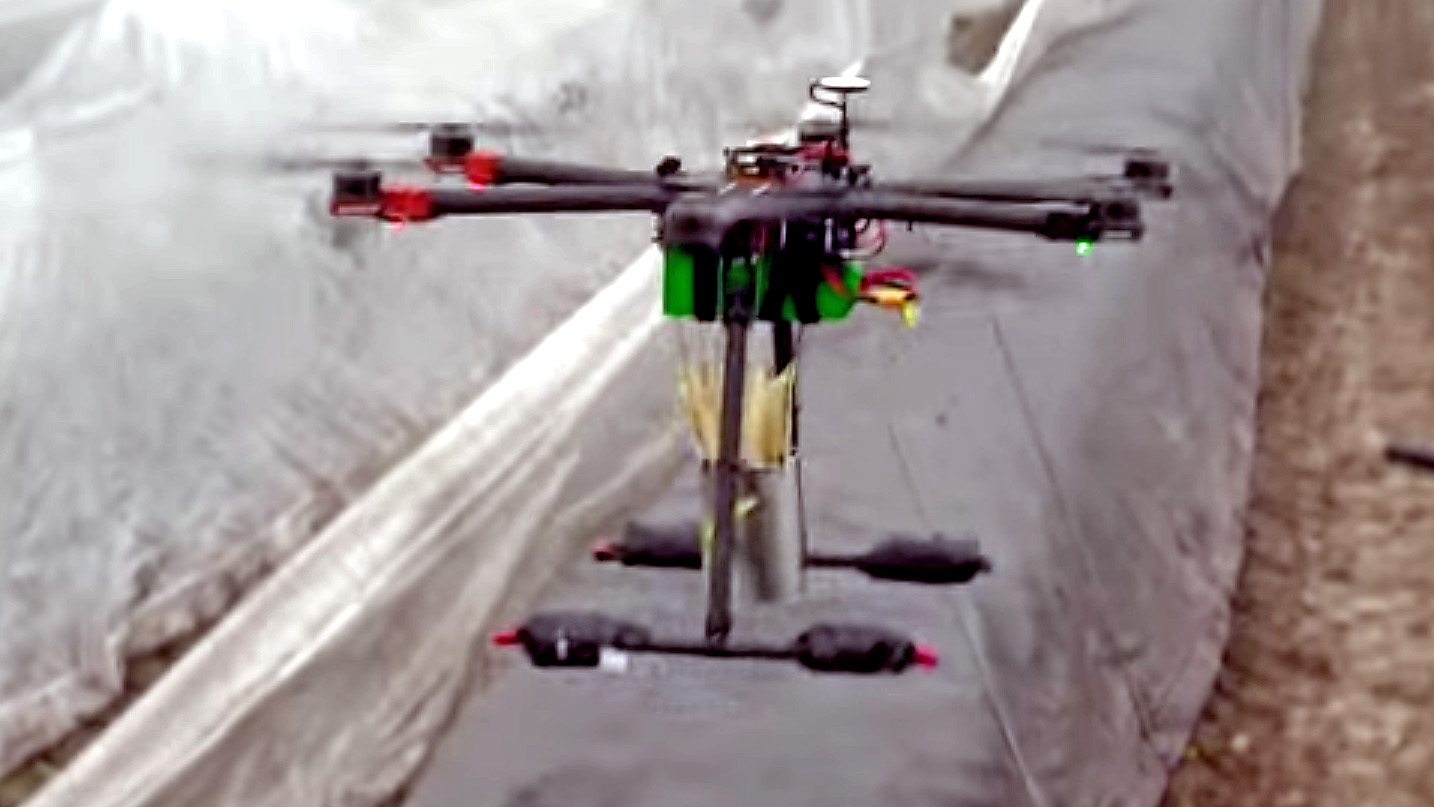 April 14, 2015 From International Business Times
A publicity stunt that involved using a consumer quadcopter drone to deliver vegetables to a restaurant in the Netherlands has literally crashed and burned.
The De Zwann Michelin-starred restaurant in Etten-Leur, North Brabant in the Netherlands always puts on an exciting publicity stunt to mark the beginning of the asparagus season.
In previous years, owner Ronald Peijenburg has used everything from a Formula 1 racing car to a hot air balloon and a helicopter to deliver the very first asparagus of the season, and this year he wanted to try flying a unmanned aerial vehicle (UAV).
Initially the journey from the asparagus farm started well, with the drone taking off carrying a metal can consisting of several asparagus stalks. In the interest of safety, the pilot followed in the back of a small pick-up truck, so the drone was always in line-of-sight, with the stunt being filmed by a local TV channel.
The drone landed safely during the journey to get its battery changed before taking off again, however, on the second take off, the drone crashed onto a thankfully quiet country road, and both the drone and the asparagus it was carrying went up in flames.
"Yeah, that wasn't funny. You think you have a cool idea – with a drone – how original can you be? Picking up asparagus with a drone," Peijenburg told Netherlands regional broadcaster Omroep Brabant after the drone crashed.
"This is very, very sad because it was an amateur pilot, the owner of the drone, who organised this especially for me and brings his own toys. So this wasn't supposed to happen of course."
Nevertheless, the first asparagus of the season was still delivered by more traditional methods to the restaurant and is now on the menu.
People in various fields have been trying out many different use cases for drones – some that work, and some not so much. In July 2014, a drone operator lent his UAV to the hunt for a missing elderly man in Wisconsin and was able to find him within 20 minutes after an unsuccessful three-day police hunt.
Meanwhile in February, a restaurant chain in Singapore announced that it will be using drones to ease the load on its waiters by getting the UAVs to deliver food and drink from the kitchen and bar to the seating areas.
However, a stunt in December where TGI Friday wanted to have drones carrying sprigs of mistletoe hovering over customers at its restaurants in New York failed spectacularly, with thedrone crashing into a woman's face and cutting open her nose.
Back in Amsterdam, an event organiser has announced AIR 2015, the first ever live entertainment show featuring UAVs, that will take place later this year, working together with the Royal Netherlands Air Force.