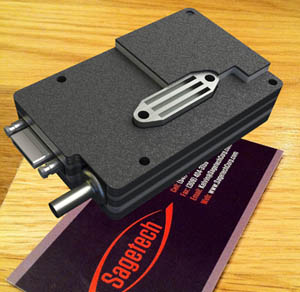 Many might already know that congress recently signed the Federal Aviation Administration Re-authorization Act, which orders the FAA to make way for drones in the National Airspace System (NAS) by 2015.

It seems that the rules will remain the same for recreational drones flying below 400 feet (which constitutes the vast majority of activity on this site). But for those seeking higher altitude, it's likely that your drone will need some kind of "sense and avoid technology."
From the bill, H.R. 658:
SEC. 322. CIVIL UNMANNED AIRCRAFT SYSTEMS INTEGRATION PLAN.
    (a) Integration Plan-
        (1) COMPREHENSIVE PLAN- Not later than 270 days after the date of enactment of this Act, the Secretary of Transportation, in consultation with representatives of the aviation industry, Federal agencies that employ unmanned aircraft systems technology in the national airspace system, and the unmanned aircraft systems industry, shall develop a comprehensive plan to safely integrate civil unmanned aircraft systems into the national airspace system.
        (2) MINIMUM REQUIREMENTS- In developing the plan under paragraph (1), the Secretary shall, at a minimum--
            (A) review technologies and research that will assist in facilitating the safe integration of civil unmanned aircraft systems into the national airspace system;
            (B) provide recommendations or projections for the rulemaking to be conducted under subsection (b)--
                (i) to define the acceptable standards for operations and certification of civil unmanned aircraft systems;
                (ii) to ensure that civil unmanned aircraft systems include a sense and avoid capability, if necessary for safety purposes;
                (iii) to develop standards and requirements for unmanned aircraft systems sense and avoid performance; and
                (iv) to develop standards and requirements fo
r the operator and pilot of a commercial unmanned aircraft system, including standards and requirements for registration and licensing;
To create a small Unmanned Aerial System (sUAS) with sense and avoid technology, you need to make sure that the equipment is small. sUASNews.com recently made a post about the world's smallest FAA-spec transponder. It measures 3.5" x 1.8" x 0.7", and weighs about 100g - which is 30 percent lighter than an iPhone.

The transponder is based on Automatic Dependent Surveillance-Broadcast (ADS-B) technology, which compliments the FAA's switch to the GPS-oriented "NextGen" system. All aircraft in the NAS must be equipped with ADS-B transponders by 2020.
It runs on 10-32V, and consumes about 8 watts during normal operation. Not sure about the cost, but I'm attaching a nifty PDF with more info about the device.Sagetech-XP-Family-Transponder-Brochure-v3.1.pdf